What Do You Need To Be Ready For?
Texas's Identity Theft Enforcement and Protection Act, ratified in 2007, makes it mandatory for all business to maintain procedures to protect its customers from disclosure of confidential information and to inform its customers of any breach of this information.  Businesses can be required to pay restitution of up to $250,000 for data breaches and with breaches involving more than 10,000 consumers, a business must inform consumer reporting agencies as well.
These responsibilities and requirements pose a daunting challenge in complying with and adhering to these laws.  Financially, data security and compliance can come at a large cost.
By offering CSR's Data Breach Reporting Service, we can help you prevent loss by being prepared to prevent data breaches before they happen, and more easily and quickly comply if or when they do happen.
Is your organization prepared to handle a data breach?
As a trusted provider of data destruction services, we want to help small and medium-sized business owners by providing access to a comprehensive data breach protection solution. Data Shredding Services of Texas, Inc. has partnered with the Certified Information Privacy Professionals at CSR Privacy Solutions to provide a full suite of industry-leading data protection services for our customers.  The CSR Readiness Pro Edition, containing the Readiness Risk Assessment and Breach Reporting Service, will help your business reduce the risk of data breach, and in the event of an actual breach or suspected breach, CSR takes the headache and hassle out of the legal requirements to report the loss or breach of personally identifiable information (PPI) to an ever increasing number of authorities as well as mandated notification to your customers.
The Breach Reporting Service:
Is your organization prepared to handle a data breach?  Millions are affected by Data Breaches Each and Every Year!  The Breach Reporting Service is the REACTIVE solution that fulfills your legal requirements to report a breach and notify your customers. This patented, award-winning service is provided by Certified Information Privacy Professionals and will help protect your reputation and mitigate fines.
HOW IT WORKS
Breach Reporting Service™ – 4 simple steps
Collect all necessary information
CSR Readiness:
CSR Readiness is PROACTIVE solution that helps your business improve the way it handles personal information and will identify potential privacy or security deficiencies. It then provides a prioritized remediation schedule to fill the gaps in your privacy policies and practices. This is critical should you ever come up in any sort of investigation or legal process related to a breach.
HOW IT WORKS
CSR Readiness® – 3 simple steps
A self-assessment data privacy questionnaire – 

Click Here
For More Information about the CSR Readiness or Breach Reporting Service Contact us today for more details or click the button below to visit the  Frequently Asked Questions page of our partner website:
CSR Breach Reporting Video
Don't Get Caught With Your Pants Down
Be prepared to protect yourself, your clients and your vendors from the devastating loss of a data breach.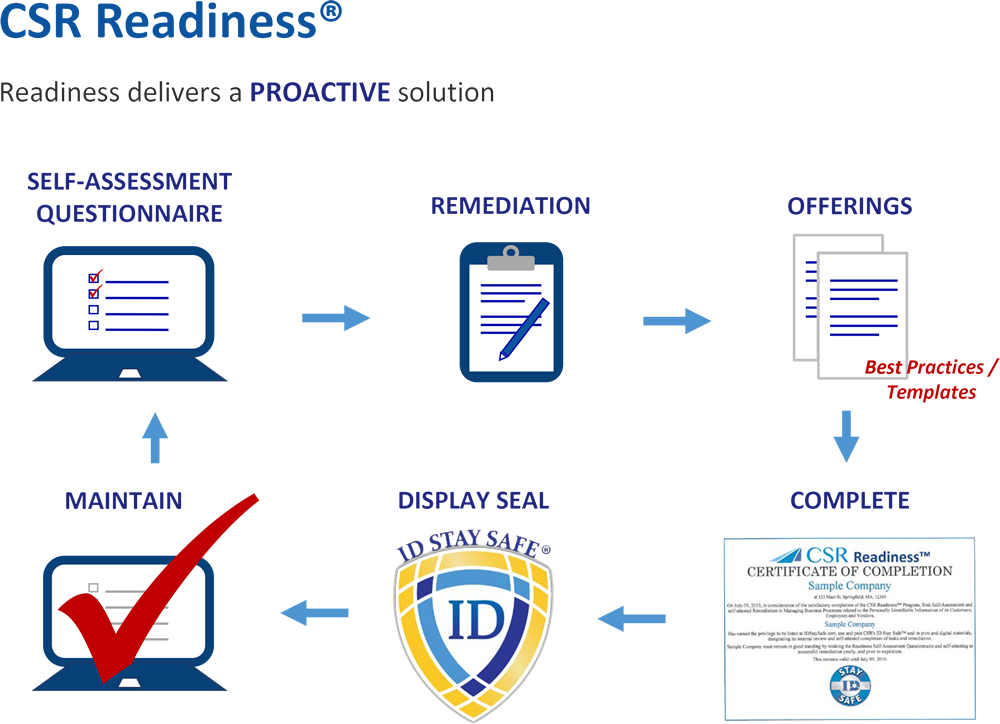 FIND OUT MORE INFORMATION
Fill out the form below, and representative will contact you to discuss our Readiness Pro Suite.